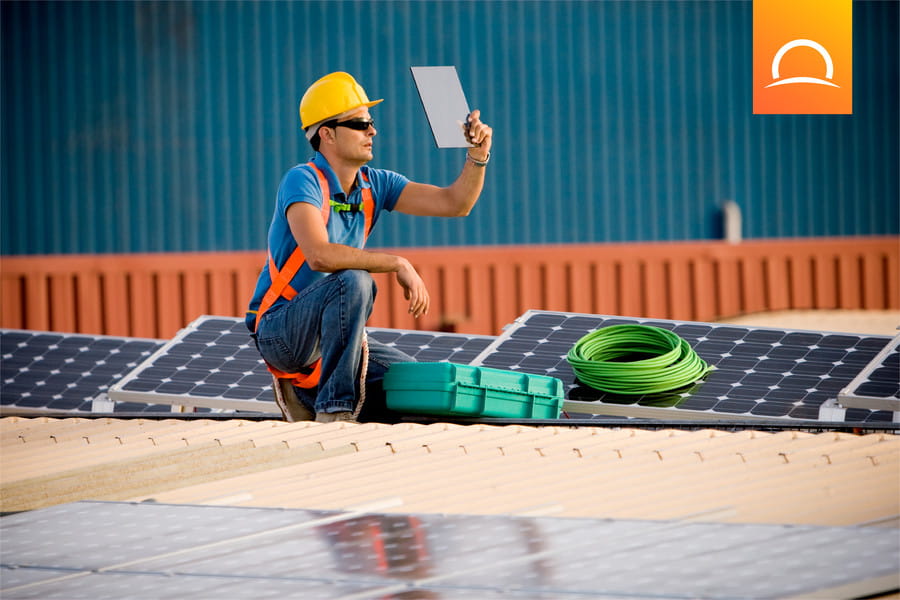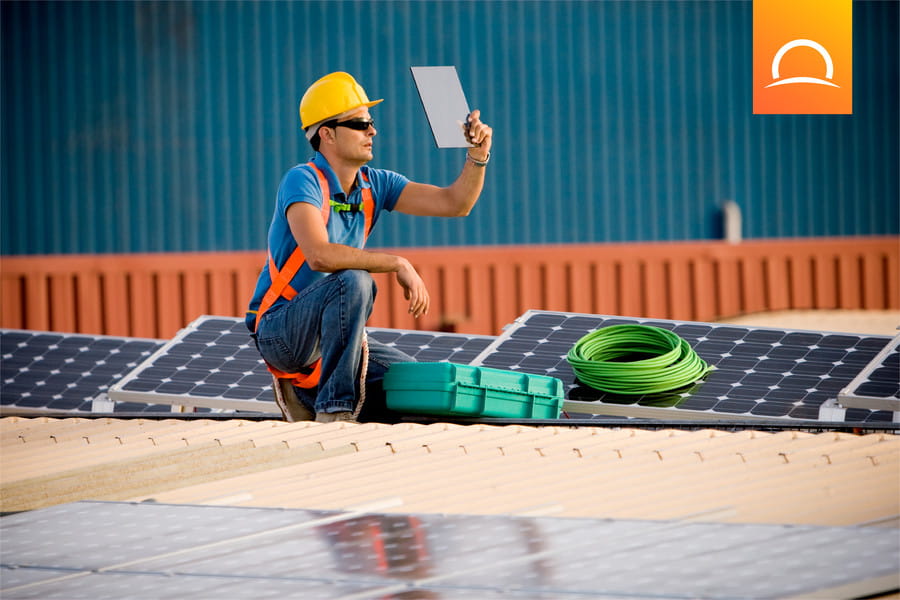 Switching to solar is a great way to gain energy independence. Thanks to rapidly advancing technology, solar panels are more durable than ever - they're designed to withstand nearly anything. However, solar panels spend 25+ years living on your roof, and they may need the occasional maintenance or repairs.
If you lease your solar panels, you may be covered under a warranty plan. Sunnova customers have peace of mind because they are covered by our industry-leading, 25-year Sunnova Protect™ warranty.
However, if you purchased your panels with cash or a bank loan, you're likely responsible for any repairs your solar panels may need. While solar panels are built to last, some repairs can be costly.
In general, solar panel maintenance is low-impact and straightforward. Knowing when it's time to call in a professional, and how much repairs are likely to cost will ward off stress when the unexpected hits.
Our Top 4 Solar Panel Repairs
1. Inverter Issues
The two most common types of inverters installed in home solar panels are string inverters and micro-inverters. String inverters connect a group of panels, called a string, to one inverter. This means that you may have a set of panels all feeding into the same large inverter.
By contrast, micro-inverters are an integrated part of each individual panel (on the back of each solar panel), eliminating the need for a larger single inverter.
In both cases, you may first notice an issue with your inverter due to a loss of solar energy production. If you're a Sunnova customer, we monitor your solar energy production 24/7, and we'll alert you to any issues*. You can also view your solar energy production in MySunnova. Otherwise, you can check your utility meters or your utility bill to see if you are using more electricity from the grid.
If you have a string inverter setup, you may also notice an error message on your inverter. However, if you have micro-inverters, we do not recommend you get on your roof to check your micro-inverters.
2. Wiring Damage
Most panels are wired either using a series wiring system or parallel wiring system. Series wiring connects a group of panels using one wire so that their total voltage is tied together in a string. Parallel wiring connects panels to a central wire using individual wires for each panel.
The main difference in series wiring and parallel wiring is the number of wires involved. Series wiring only requires one line from the string of panels to the roof, while parallel wiring requires multiple wires connected to the roof.
Wiring may become loose over time due to heavy winds or other weather events. While loose wiring is rare, it can cause a drop in solar production. In order to check for loose wiring issues, you'll need to have your solar installer take a look – we never recommend you get on your roof to check your solar panels.
Alternately, water damage may occur if water is able to enter wiring conduits. Conduits are a covering that protects wires from the elements, and when improperly installed, can sometimes have gaps that allow rain or the water used during solar panel cleaning to damage the wiring housed inside. In the case of wiring issues caused by water damage, you'll not only need a trained solar repair expert but also an electrician to check out the area before any work can be done.
3. Circuit Breaker Trips
If your solar system is causing your circuit breaker to trip, you could be facing a few different issues: your breaker panel may be affected by external elements like the heat or rain, the connection between your system and your breaker is unreliable, or your breaker panel may be faulty.
Frequent circuit breaker trips can also be indicative of solar panel conductor issues. Solar panel conductors are installed using clips that secure them to the solar system frames. If conductors are damaged, improperly installed, or not up to code, they can cause your circuit breaker to trip.
4. Solar Panel Replacements
In very rare cases an entire panel may need to be replaced. This could be due to extreme blunt force, such as large debris being slammed into the panel during a tornado or hurricane. Damage requiring replacement can also be caused by falling trees or tree limbs.
Solar panels may also need to be replaced due to internal deficiencies. In this case, you'll need to be able to show proper maintenance and voltage readings to prove that you're experiencing an internal problem that requires panel replacement.
Are My Solar Panel Repairs Covered?
If you own your solar panels, it's important to note that most solar panel warranty plans only cover materials and workmanship for 10 years, but your panels are designed to last for 20+ years.
It's important to understand the three main warranties that are offered with most solar panel installations.
Workmanship warranties are straight-forward - they cover damages or faults that occur during installation or due to improper installation.
Equipment warranties cover all of the main pieces of your solar system, including your solar panels. Your equipment warranty should cover defects in your equipment including manufacturing issues or components that fail prematurely.
Performance warranties guarantee the rate at which your panels will produce energy. Usually, these warranties guarantee a certain percentage based on the age of the system, and if your production falls below the warrantied percentage, you're covered.
If you purchase your panels through Sunnova Easy Own, our Sunnova Protect™ warranty covers all three types of warranties
If You Own Your Solar Panels - When Adding Solar Service Plan Makes Sense
If you own your solar panels, it's important to protect your investment from repairs that are not covered by your manufacturer's warranty.
Sunnova now offers our industry-leading Sunnova ProtectTM Service Plans to anyone with solar.
If your system needs repairs, you may be stuck negotiating with the manufacture for repairs and replacement parts. With a Sunnova Protect™ Service Plan, we can take on the hassle of negotiating with the manufacturer and coordinating any services to your solar system.
Gain comfort and security knowing that the nation's leading residential solar + battery storage company is monitoring and caring for your home's solar system. Learn more about our Sunnova ProtectTM Service Plans.
1. Different plan options available. Product benefits depend on the plan selected. $99/Year correspond to Basic Plan (monitoring). Maintenance and repair services require Premium or Platinum Plan. Production guarantee requires Platinum Plan.