Residential Dealers
Your success is our mission
With Sunnova, you get a partner dedicated to helping you carve your own lane in the rapidly growing home energy market. Unlike many service providers, we don't compete with our dealers. We are solely focused on helping you win. And as a leading national, publicly traded energy service provider, you can trust that we'll have your back for the long run.
When you partner with us you get:
The broadest product suite and market coverage in the industry
25-year service + warranty protection customers deserve
Advanced software platforms and innovative technology
Strategic partnerships with top brands to fuel your growth
New Opportunities in Business Markets
Plug in to our powerful network.
Looking to grow in the commercial space? Become a Sunnova commercial dealer today and get access to qualified businesses and institutions, including those in retail, education, transportation, hospitality, non-profit, and many more! Our flexible model helps you stand apart from your competitors with a comprehensive and differentiated service offering. Plus, get the tools you need to help scale your business in growing markets across the U.S.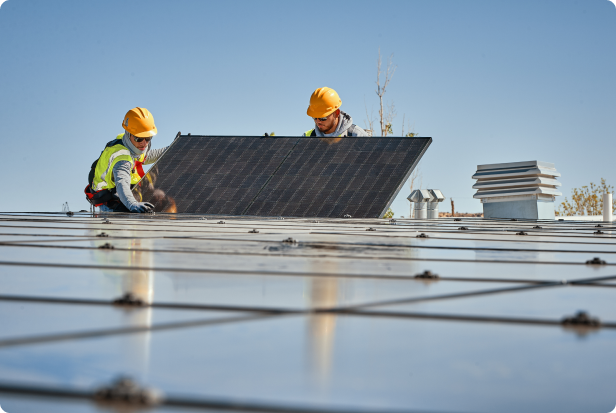 Broadest suite of residential service offerings – on a single platform
With flexible financing, including loans, PPAs, leases, and standalone accessory loans, you can customize a plan that meets your and your customers needs.
Home
Solar
Solar
+ Battery
Add-on
Battery
EV
Chargers
Roof
Replacement
Standby
Generators
HVAC
Systems
Main Panel
Upgrade
Service customers expect.

We understand that customers need peace of mind when making an investment in their home. That's why all of our residential solar and solar + battery storage services come with a Sunnova Protect® platinum plan featuring 25 years of maintenance, monitoring, repairs, replacements, and an energy guarantee.*
The Solar Dealer Guide to Crafting a Better Customer Experience
We offer comprehensive benefits and are
continually improving the dealer experience
Dedicated account management team
Access to leading technology and equipment
High-volume, qualified leads delivered to you
Competitive FICO requirements and dealer fees
Intuitive sales portal and software integrations
Bi-lingual support for broader audiences
Marketing resources and development funds
Online contract validation
On-time payments for project milestones
Residential Quoting Platform
Quote and design in no time
Powered by Sunnova Catalyst, our new residential quoting platform offers the most powerful sales experience in the industry, to help you win more work, close more deals, and get paid faster.

Become a Sunnova Dealer
Become a Residential Sunnova dealer today.