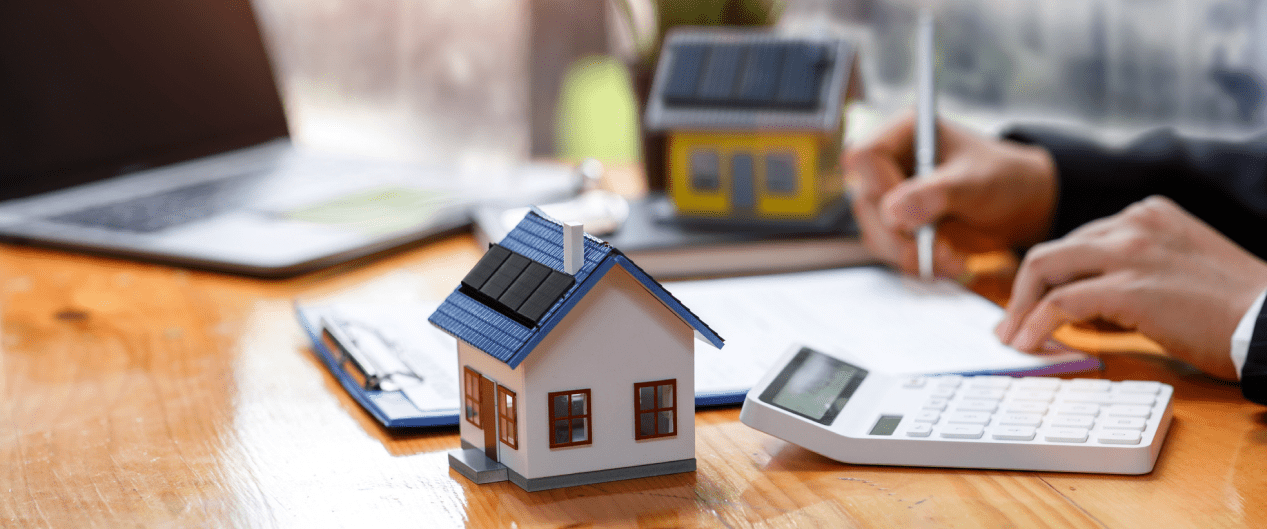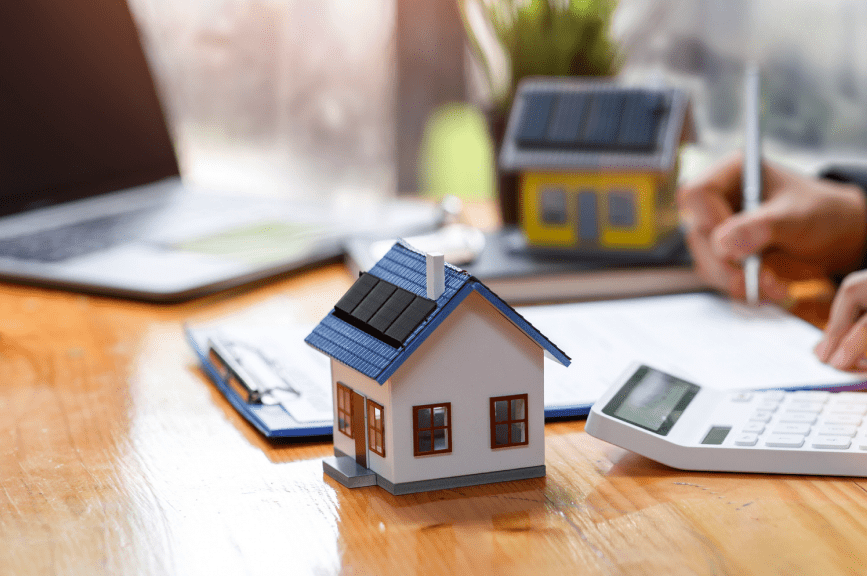 Whether you've decided to harness sunlight to power your home or you're still in the research phase, one factor to consider is how you'll pay for your solar panels. While some homeowners pay cash, shelling out tens of thousands of dollars during installation isn't feasible for many Americans. Therefore, the most common solar financing options are a loan, lease or a power purchase agreement (PPA).
Each financing option has its own benefits and downsides. Contrary to what you might see on social media or hear from questionable door-to-door salesmen, solar panels are never free. There are no government programs that cover the cost of your rooftop array, nor will your utility pay you to go solar. These sales tactics embellish the notion of third-party ownership. Yes, you can install solar panels for no upfront costs and enjoy potential electric bill savings over time — but you will still pay for the equipment, labor and fees to use the power grid — in some form.
That said, if the economics didn't make sense, millions of homeowners wouldn't choose to install solar electric panels on their rooftops. And, since we just surpassed the 3 million milestone for residential installs (1 million of those being built within the last two years)*, it's safe to say solar is an avenue worth pursuing.
What is a Solar Lease and How Does it Work?
A solar lease is similar to a car lease. As a homeowner, you'll lease the solar panels and components from a third-party provider, but receive all the clean energy these panels produce. You'll pay a predictable payment for the duration of the lease, around 25 years. When the lease is up, you can typically choose to have the system removed, renew or extend the term, or enter into a new lease.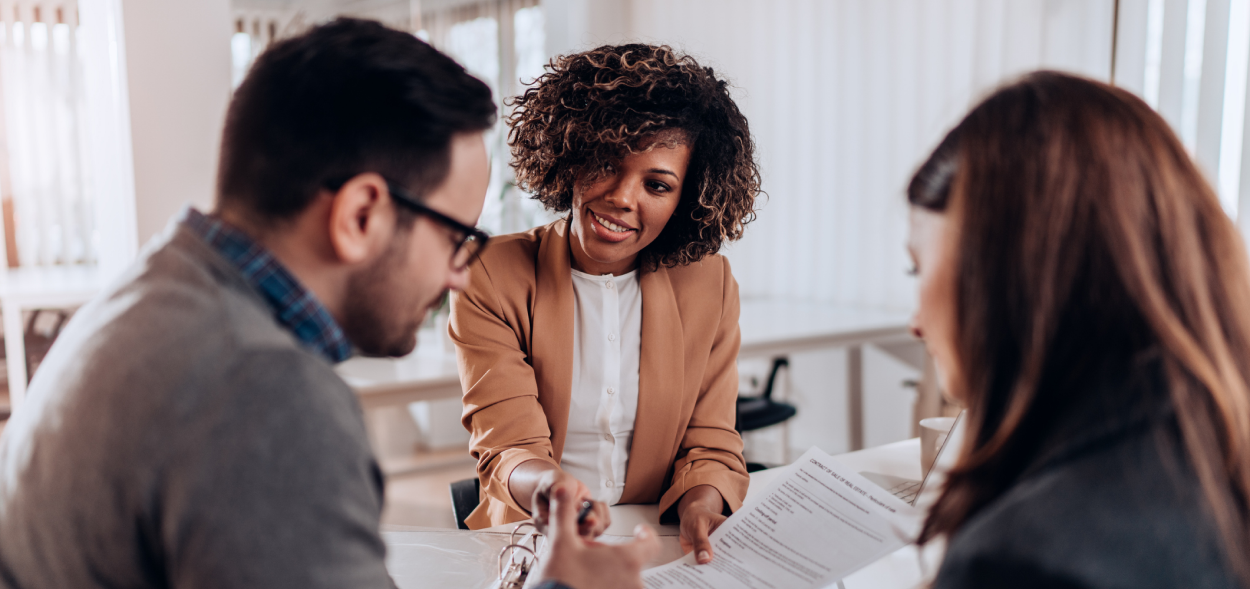 But unlike a car lease, leasing solar panels allows you to benefit from the sun's energy from day one and begin protecting yourself from volatile electricity rates. Because leases offer predictable payments over time, you'll always know exactly what your payment will be each month. This lets you plan accordingly for other expenses. Many leases also include a production guarantee, so if your panels aren't generating a minimum amount of power, you will receive a partial or prorated refund for the underperformance.*
What is a Power Purchase Agreement (PPA)?
A solar PPA is similar to a lease in that the system is installed on your property but owned by a third party. With a PPA, homeowners buy the solar energy the panels produce at an agreed upon amount per kilowatt hour (kWh) for the length of the contract. The size of your solar system will be based on your historical electricity use. This means your monthly cost will vary, but you're only paying for the electricity your panels generate.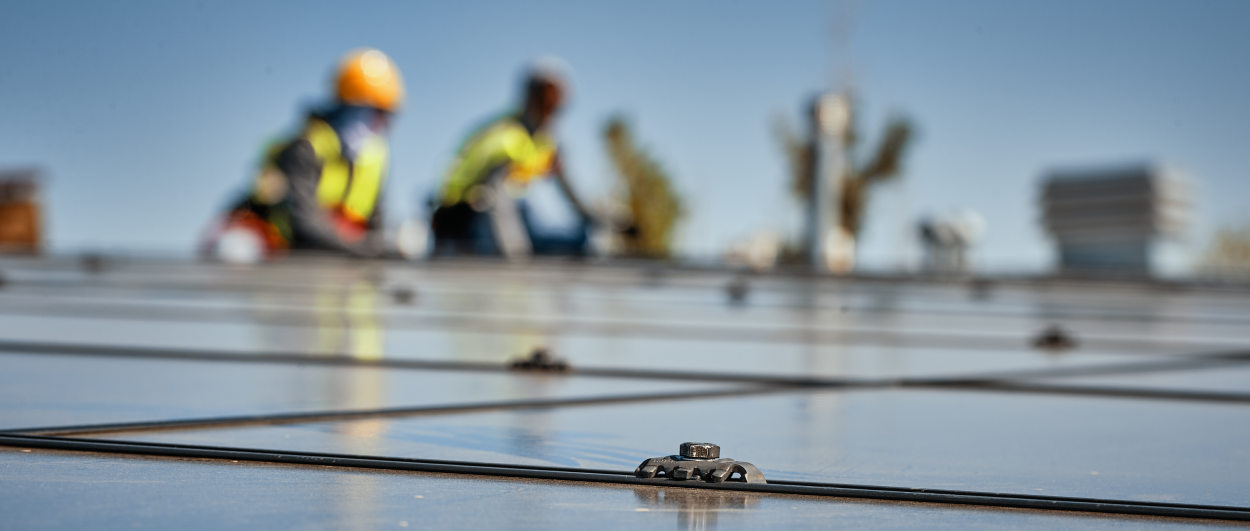 With variable PPA rates, you'll pay more when your system generates more solar energy, such as in the summer months. But, in states that allow net metering, you'll also be able to send excess energy back to the grid, and can therefore generate greater utility bill savings.
At the end of a PPA, homeowners can either have the panels removed, buy the system outright or enter into another agreement. Some companies offer a competitive buyout option where you can purchase your solar system well before the agreement is up.
Benefits of a Solar Lease and PPA
Both a solar lease and PPA allow homeowners to go solar without the steep upfront costs of buying panels outright. For no money down, solar leases and PPAs mean you can begin using clean energy the day your system is connected to the grid.
Your relationship with your utility, including how you buy and sell electricity, is the same as if you owned the system. This means you can take advantage of net metering and solar buyback programs, where available. In addition, all maintenance and repairs are taken care of by the third-party owner, not the customer.
Downsides to Third-Party Ownership
Third-party ownership offers a hands-off approach to clean energy adoption, but leases and PPAs aren't for everyone. Since you, the homeowner, don't own the solar panels, you can't apply for incentives like the residential investment tax credit (ITC),* which offers a tax credit based on the cost of the solar system. In some states, other incentives may be available, but generally speaking, solar lease and PPA customers aren't entitled to solar rebates. In addition, your solar panels aren't an asset, so you can't expect them to increase your home value. That said, you can transfer PPAs and leases to new homeowners, and some buyers consider this a benefit.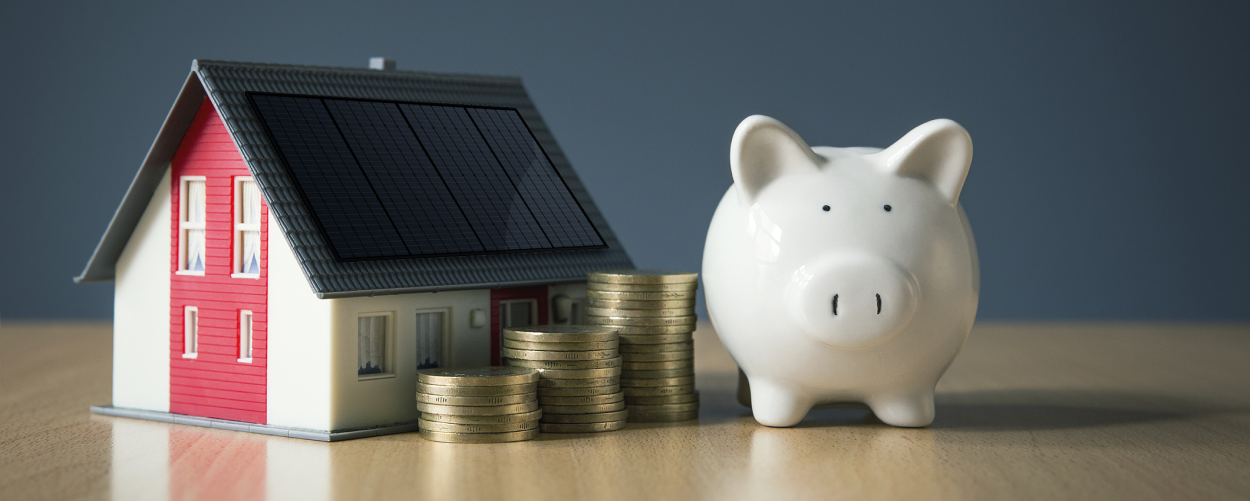 For solar contracts that include a yearly escalator, know that this amount is designed to increase over time. So, while you may start off paying a substantially lower price per kilowatt-hour than what your utility charges, as the years pass your solar payment becomes higher and that gap closes.
If you want to sell your home before your lease or PPA is up, you'll have to buy out the agreement or transfer it to the new owner.
Why Get a Solar Lease or PPA?
Third-party ownership is ideal for those who:
Have a low tax liability
The federal tax credit is only available if you own your system, but if homeowners don't have a large enough tax liability, a portion of that tax credit could go unused.
Have subpar credit
A low credit score can disqualify you for a loan or make the APR too high. PPAs and leases are ideal for anyone with a lower credit score.
Are only interested in saving money on their monthly bills
$0 down means you can start saving money the day your system is turned on. As utility rates continue increasing, TPO agreements will likely create cost savings over time.
Don't want to pay for insurance
Since the system is owned by a third party, that party takes on the responsibility of insuring the system.
Sunnova's Easy Plan™ (PPA/Lease)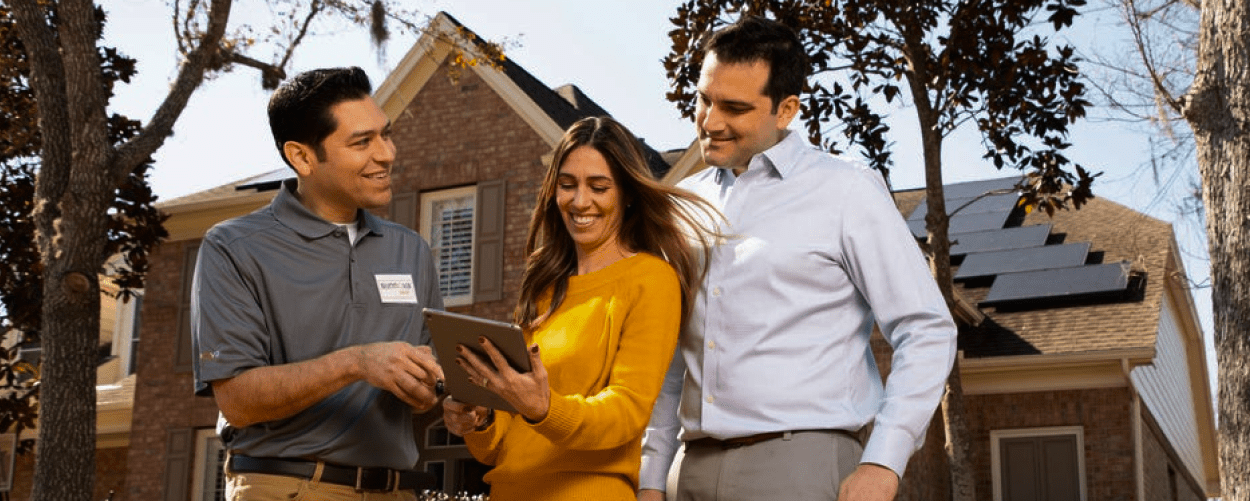 At Sunnova, we offer both a PPA and a solar lease option. With our 25-year Easy Plan™ PPA, you can opt for variable or balanced billing. The variable billing is based on the amount of energy your solar system produces each month. Balanced billing is a flat, predictable bill for the year that's based on the estimated production of your solar panels. If you choose a predictable solar rate (based on kilowatt hours) for your PPA, you can enjoy a 25-year production guarantee.*
Your other option is a market-based solar rate. This unique offering takes into account what the utility charges overall from the year prior — then Sunnova discounts that rate — offering you a flat fee for the year. With either billing or rate plan, you have the option to buy your system outright after just five years. When you choose the predictable solar rate, you can also make upfront payments to reduce your monthly solar cost.
With Sunnova's 25-year Easy Plan™ Equipment Lease, your only option is balanced billing: predictable monthly payments based on the equipment cost of your leased system. With an Easy Plan™ lease, you can also bundle solar with battery storage and enjoy competitive pricing without the hassle of applying for incentives.
Benefits of Financing Your Panels with a Solar Loan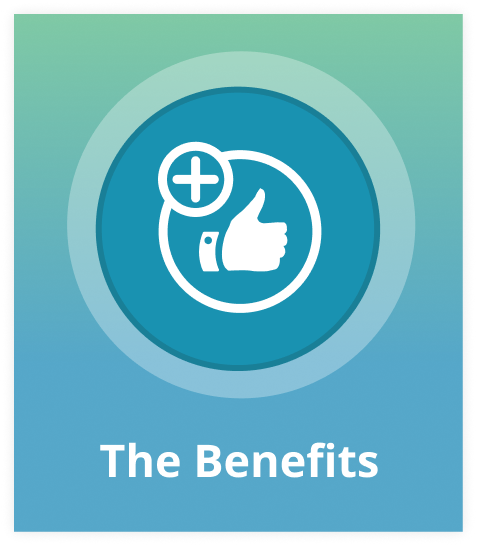 In years past, going solar for no money down was only available with solar loans and PPAs. Today, more solar companies are offering zero-down loan options, allowing homeowners to finance solar panels without a hefty upfront payment. With the exception of a cash purchase, solar loans tend to offer the highest net savings of all the solar financing types.
By owning your panels, you can file for federal, state and local incentives that help reduce your solar payback period or the time it takes for your solar investment to pay for itself. Thanks to the passing of the Inflation Reduction Act (IRA), the federal tax credit was extended for 10 years.
Therefore, anyone who purchases a home solar system between 2022 and 2032 can receive an income tax credit up to 30% of the cost of their residential solar system. Depending on where you live, you also qualify for solar renewable energy credits (RECs) that can be sold on the open market.
When you finance your rooftop solar panels with a loan, all the clean energy generated is included in the price of the system. And if your solar panels produce more than expected, all that surplus energy is yours — you can sell it back to your utility through net metering or store it in a solar battery to use when the sun goes down. Because your solar panels are an asset, studies show it can be easier to sell your home — you may even increase its appraised value.*
Downsides to a Solar Loan
Each situation is unique, and a solar loan isn't right for everyone. While you can possibly qualify for the federal tax credit, you don't get that money back until tax time — it's not immediate.
You must insure your system through your homeowner's insurance. Therefore, if your panels become damaged in extreme weather, you will file a claim with your insurance, not the installer.
You are also responsible for maintenance, upkeep, and any needed repairs. Keep in mind that with a loan, production guarantees are generally not included.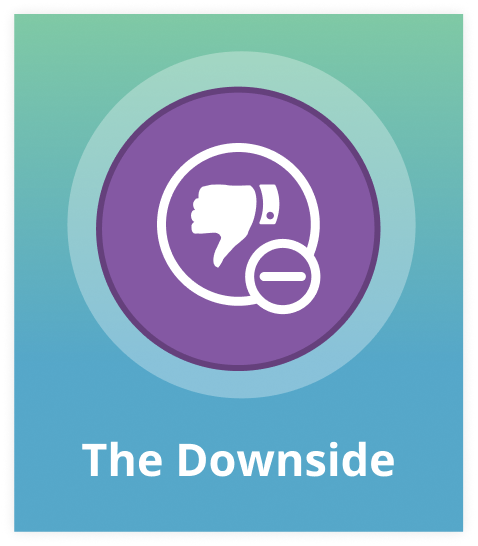 While a PV system on your roof can increase your property value, it may also increase your property taxes. Different states have different policies, so be sure to look into this beforehand.
If you finance with a loan, the interest rate you get will vary, based on when you get your solar loan and other factors, like your credit score. In addition, you must sell your solar renewable energy certificates (RECs) if you own your system — either by hiring a broker or enrolling in program like Sunnova's Managed RECs.
Why Get a Solar Loan?
Financing your panels with a solar loan is ideal for those who:
Have the financial ability
If you have a stable cash flow and can absorb a large one-time payment (the more you pay upfront, the more you'll save over the system's lifetime).
By paying cash, you can avoid paying interest and loan fees and save more money over the long-run.
By financing with a loan, you pay one set of loan costs and fees. Depending on your payback period, you can keep your monthly payments low.
Have good credit
In order to qualify for a loan, your credit should be in the mid-600s.
Want to make their home more attractive to buyers
Since owning your solar system is an asset, studies suggest that homes with solar are a value-add for buyers, and have been shown to sell over asking price while spending less time on the market.
Sunnova's Easy Own™ (Loan)
Sunnova offers a competitive solar loan option for homeowners who decide to buy their solar panels. With our Easy Own™ Equipment Purchase, you can choose terms of 10, 15 or 25 years with a balanced monthly payment and a low APR (depending on your credit score). Our loan option lets you enjoy a predictable monthly bill, even if your system produces more than expected.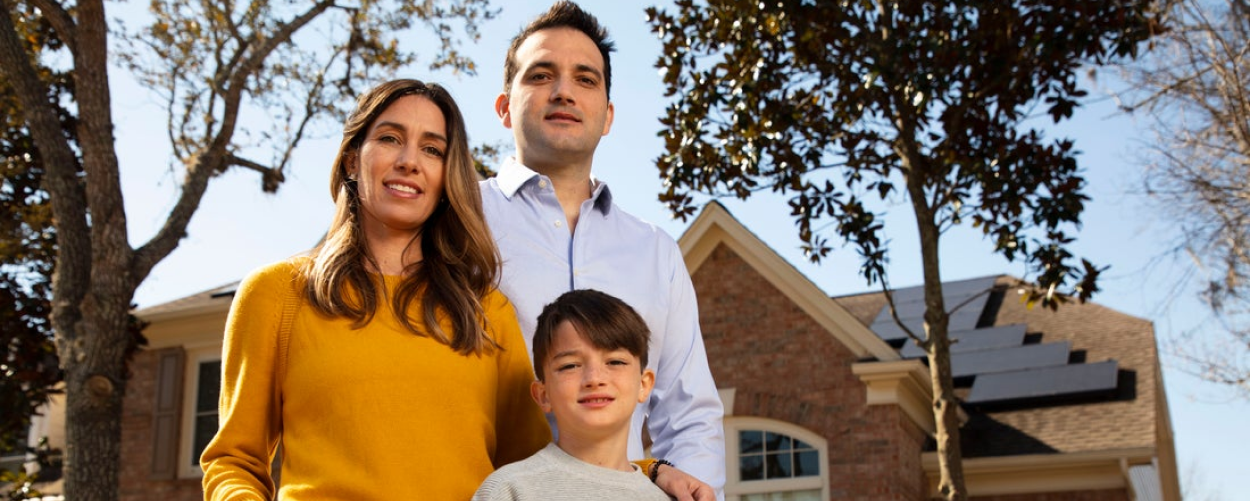 With a standard bank loan, you're responsible for all the maintenance and repairs. But our Easy Own™ plan comes with 25-year system coverage, which includes system monitoring, repairs and replacements.
In cases where the Federal Reserve raises interest rates*, Sunnova's loan option makes financial sense, with APRs often less than what a bank offers (for qualifying customers).
You'll be responsible for insuring your solar panels with your homeowner's insurance, except for Puerto Rico, where we provide backup insurance (for solar plus storage) if your system is damaged in a tropical storm or earthquake.
When the cost of your solar system is included in your home value, studies show that houses with solar are easier to sell.*
No matter how you decide to pay for your home solar system, you can rest assured that your investment in clean energy today will create a brighter tomorrow. Our solar experts can help you determine which solar financing option is best for you — click here to get started.
Discover how to make the sunshine work for you