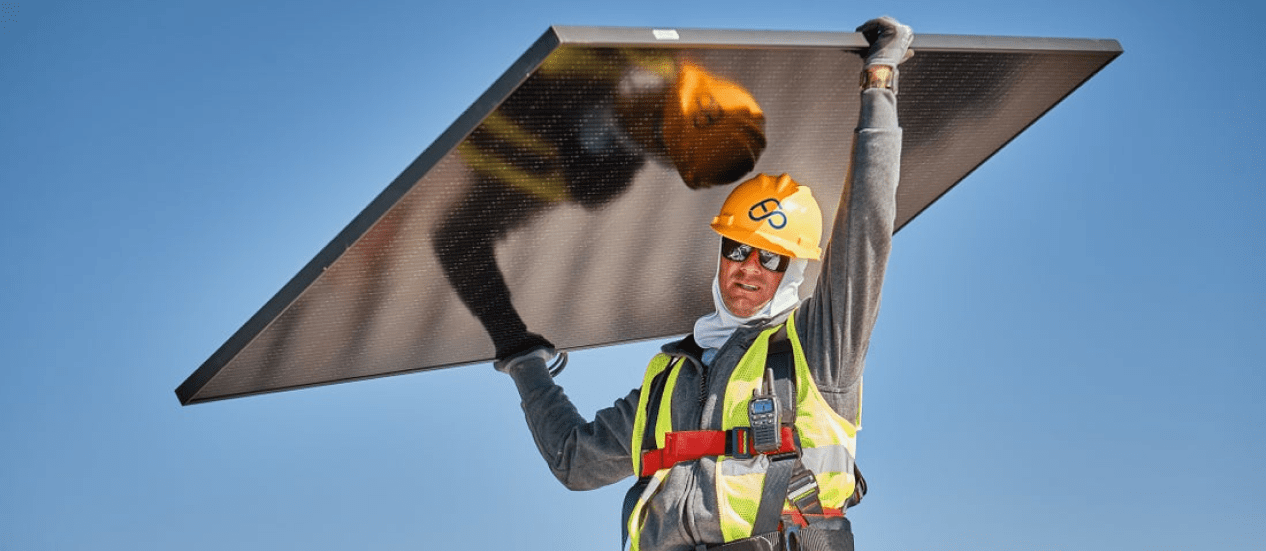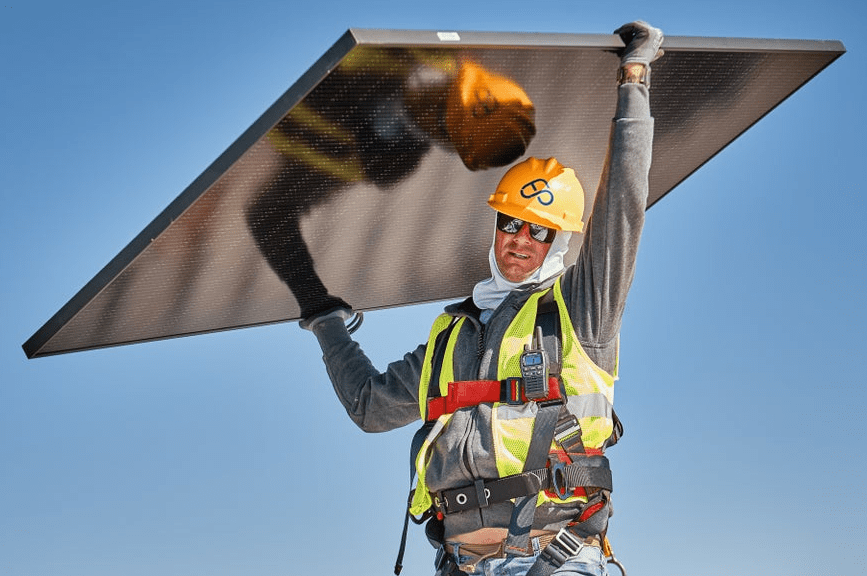 Discover what kind of tax credit you can get for going solar
How many home upgrades can you name where another party will essentially refund up to almost one-third of the total cost of the equipment for you – including the cost of installation? Not many, I bet.
But that's the case right now with installing a solar system on your home. You may be able to claim the residential investment tax credit (ITC), a federal incentive that increased to 30%, thanks to the passing of the Inflation Reduction Act (IRA). Before the passage of IRA, qualifying homeowners were to receive a 26% break this year before the incentive was set to disappear completely in 2024.
Now, the ITC has been increased to 30% for qualifying solar customers and won't disappear for 10 years. And the incentive will be retroactively applied to anyone who installed their home solar system from the beginning of 2022 onward.*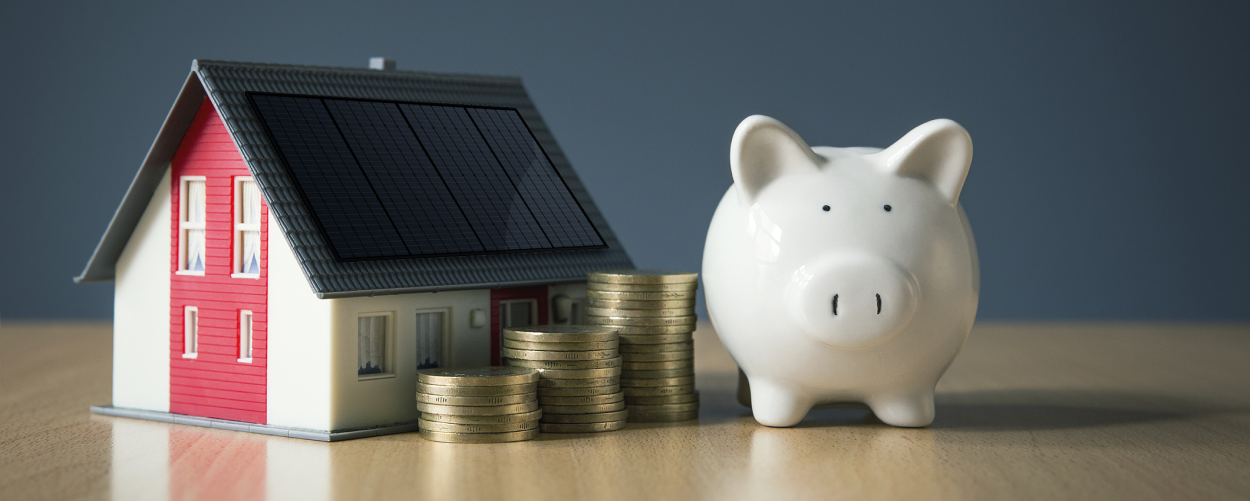 What is the Federal Residential Solar Tax Credit?
The federal residential tax credit is sometimes referred to as an Investment Tax Credit, or ITC, though it is different from the ITC offered to businesses that own solar systems. The federal tax credit for solar is one of the most important policies supporting solar energy growth and allows homeowners to deduct a percentage of the cost of installing a solar system from their federal income taxes.
Originally enacted in 2006, the ITC has helped the solar industry grow by more than 200x, with an average annual growth of 33% in the past decade alone.* This solar tax credit has been set to expire multiple times, but, thanks to the work of solar advocates and industry groups, has received multiple extensions.
An unusual feature of the ITC is that there is no cap on the amount that can be claimed, as long as it equals no more than 30% of your total costs for the solar energy equipment, including installation.
That's a good thing.
The 2022 extension of the solar ITC for 10 years provides market certainty. It promises to keep the benefits of clean solar energy within reach for homeowners across the nation.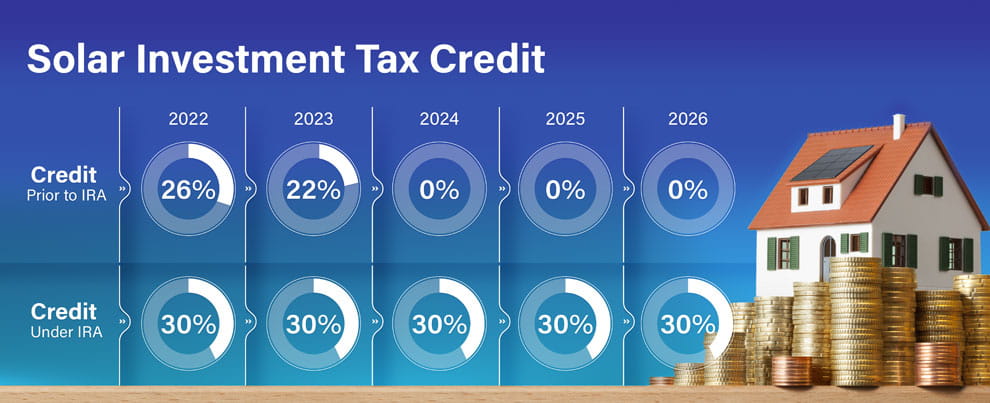 Do Solar Batteries Qualify for a Tax Credit?
The answer is yes. The IRS made clear in a private letter ruling in 2018, that homeowner's batteries attached to solar systems such as home backup batteries, could qualify for the residential tax credit. If you, as the homeowner, own it yourself, and the battery is charged by your home solar panels, your battery system may be eligible for the federal solar tax credit.
Starting in 2023, you may be able to claim the 30% tax credit for stand-alone battery storage as well — meaning the battery doesn't have to be powered by renewable energy.
How Do I Qualify for the Federal Solar Tax Credit?
To qualify for the federal solar tax credit*, you must meet all of the following requirements, per the Department of Energy:
You must own your home.
Your federal tax liability must be sufficient to apply for the 30% tax credit.
You must own your solar panels and, if applicable, energy storage system (battery). If you sign a solar lease or power purchase agreement (PPA), then a third-party owns the system, and you won't qualify for the ITC.
So, How Do I Claim the Federal Solar Tax Credit?
Simple. You claim the residential tax credit when you file your yearly federal income tax return. Well, it's relatively simple…
Seek professional tax advice first of all, to ensure that you are eligible for the credit. Then consult your tax advisor to complete IRS Form 5695 "Residential Energy Credits" and include the final results of that form on your IRS Schedule3/Form 1040.
What About State Solar Tax Credits and Rebates?
Some states offer additional tax incentives, rebates and property tax exemptions for installing a home solar system. With these state-level programs, you may be able to deduct a portion of the cost of your solar panel system from your state tax bill, similar to how it works with the federal tax credits. Consult your tax advisor regarding how state incentives and credits may affect your tax liability.
Solar and storage credits vary significantly by state, but your Sunnova dealer will be up to date on your local incentives and can steer you in the right direction.* You can find more state-specific incentives at www.dsireusa.org.
What About Those Local Rebates?
It may be possible to receive a cash rebate or other incentive from your municipality, utility company, or other organization that wants to promote solar energy. These local rebates can help to further reduce your system costs and are generally available for a limited time. They may end once funding has run out, or a certain amount of solar has been installed in the community.

Renewable Energy Certificates (RECs)
Many states have adopted some form of clean energy targets or renewable portfolio standards (RPS) that require utilities to generate a certain percentage of their electricity from solar power. If you live in one of these states, your rooftop solar system will generate solar Renewable Energy Certificates (RECs) based on the amount of clean energy your panels produce.
These RECs (or SRECs if we are referring to solar-only) represent the environmental benefits of renewable generation, not the actual electricity. They are essentially a certificate of property rights over one unit of this "greenness."
There is a market for buying and selling RECs, and Sunnova offers a program to manage the process for you. Read more about Sunnova's Managed RECs here.
Now, back to those federal tax credits.
What Expenses Are Included When I Apply for My Federal Solar Tax Credit?
All of the costs listed here may be included on your IRS Form 5695. Your Sunnova dealer can help you by itemizing them for you.
Cost of the solar PV panels
Labor costs for onsite preparation and original installation, including permitting fees, inspection costs and developer fees
Additional equipment, such as wiring, inverters and mounting equipment
Residential solar batteries that store your solar energy for later use
Sales tax on eligible expenses
Am I Eligible to Claim the Federal Solar Tax Credit in 2023?
You might be eligible for the increased 30% residential ITC for a system installed earlier this year if you meet all the following criteria:*
Your solar PV system was installed between Jan. 1, 2006, and Dec. 31, 2034. Your system must be turned on during the tax year for which you are claiming the credit on federal taxes.
The solar PV system is located at your primary or secondary residence in the United States, or for an off-site community solar project.
You own the solar PV system (i.e., you purchased it via a solar loan).
The solar PV system is new or being used for the first time. The credit can only be claimed for the original installation of the solar equipment. If you are buying a home that already has a solar system installed, for instance, you wouldn't qualify for the ITC.
Sunnova Customer Stories
Hear Sunnova reviews from customers, in their own words, about their experience with Sunnova SunSafe® home solar and battery storage. For more information on Sunnova and the home energy services we offer click here.
Is the ITC a One-Time Credit?
Anyone who buys their system outright or finances via a solar loan can claim the solar tax credit as long as they have tax liability in the year of installation. Therefore, the ITC is a one-time credit. However, if you don't have enough tax liability to claim the entire credit in one year, you can carry any leftover amount forward to the next year as long as the tax credit is still in effect.
So, What Am I Waiting For?
At Sunnova, we're committed to providing a better energy service at a better price. As the price of electricity continues to rise, the sooner you install solar on your home, the sooner you can protect yourself from volatile energy costs.
Ready to make the sunshine work for you?