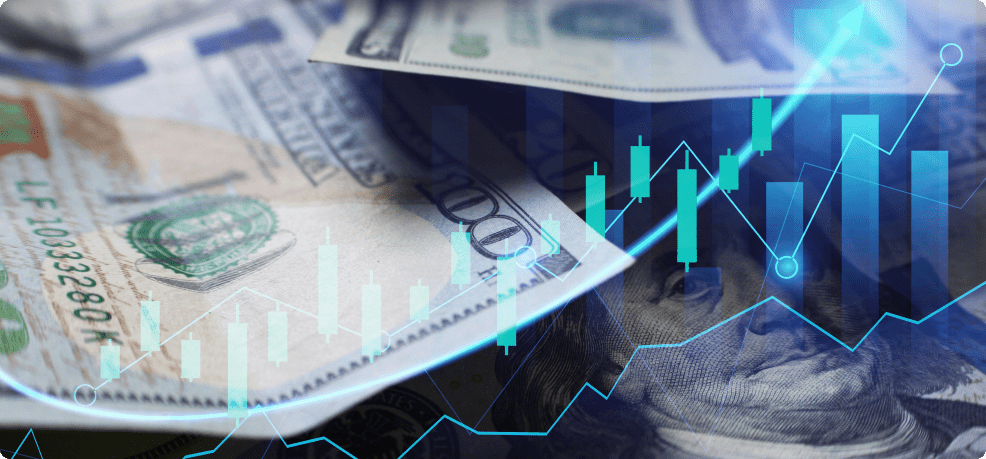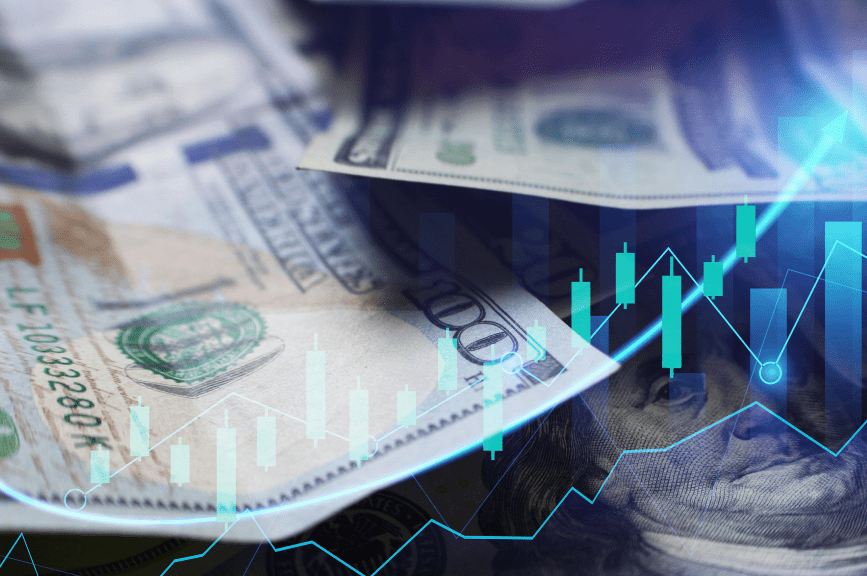 Electricity prices are rising and so are Americans' frustrations. After being hit by $1-plus increases at the pump this spring, residents are now gazing at their utility bills in disbelief.
Some households are facing tough decisions this year on how to spend their money as the price of electricity increases. As triple-digits blanketed the U.S. this summer, more residents realized the steep cost of keeping their dwellings cool.
In March, inflation surged to 8.5%, reaching a four-decade high.* Escalating gasoline prices were driven by the invasion of Ukraine and the ensuing sanctions on Russia, a major producer of oil and natural gas.
But prices at the pump aren't the only hardship. Other products — used cars, airfares, meat, fish and baked goods — also experienced double-digit increases over last year.
Distributed energy resources (DERs), small-scale power sources that generate electricity close to where it will be used, are a key player in reducing overall energy costs for consumers.
Why Electricity Prices are Increasing
We saw in 2021 how the escalating price of natural gas began impacting other sectors like wholesale electricity. That was well before the invasion of Ukraine. As the conflict intensified, natural gas prices in April surged to the highest level in more than 13 years, with experts predicting "long-lasting" impacts on North American natural gas markets*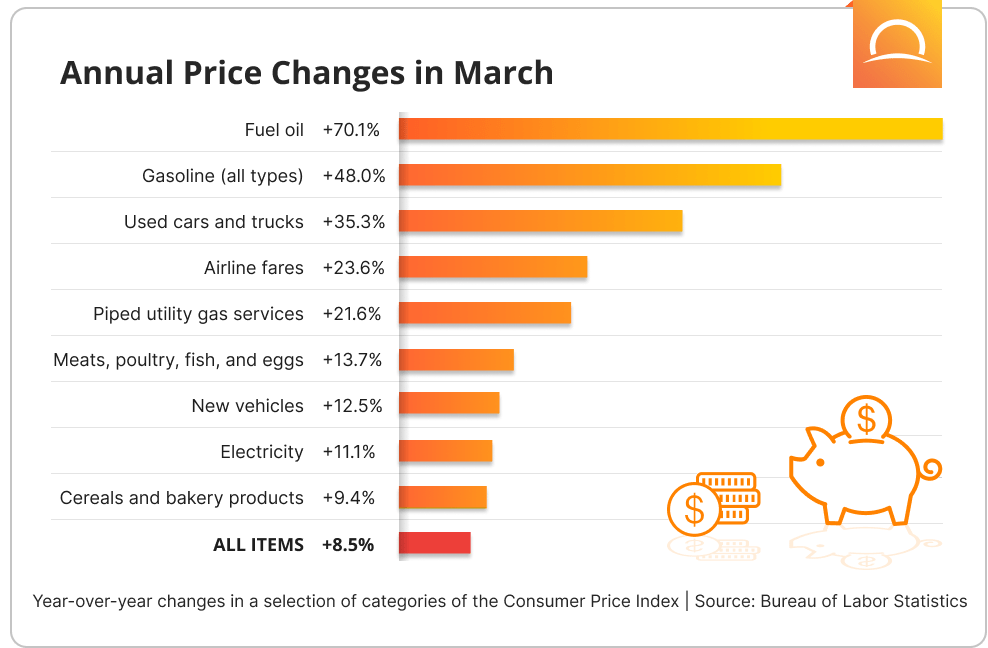 The U.S. has been exporting record amounts of liquefied natural gas to Europe as countries struggle to wean themselves off Russian gas. With millions of Ukrainians displaced from their homes and families torn apart, it's a small measure of relief the U.S. can provide. Still, it's another reason prices are going up in the states.
Across America, natural gas is burned to produce about 40 percent of our electricity.* Now, consider the routine grid maintenance needed to mitigate wildfire risk and maintain our electric supply during heatwaves and hurricanes.
Supply chain challenges aren't making maintenance any easier. Some electric utilities like LCEC in Florida are announcing that disruptions in manufacturing and labor shortages have lengthened lead times for materials from three months to more than a year.*
If you think your utility company will happily absorb the cost of rising raw materials and grid components, think again. The war, the pandemic, the frequency of weather disasters. These are monumental events with catastrophic consequences — and they won't disappear overnight.
How Solar + Storage Can Curb High Utility Bills & Provide Resiliency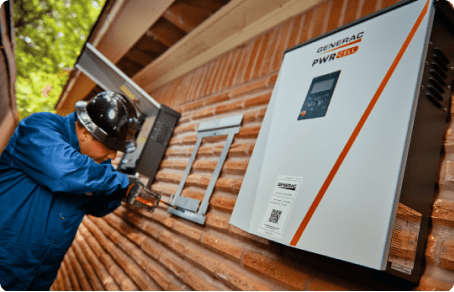 Because climate change influences prices across so many sectors, we need to accelerate the transition to clean energy and especially DERs like solar + storage. The sooner we reduce our dependence on fossil fuels, the faster we can stabilize our economy and work to prevent another energy crisis.
Thanks to the Inflation Reduction Act (IRA), signed into law in August, the U.S. is making strides toward a clean energy future. The IRA promises to lower energy costs for families, spark clean energy innovation in the U.S., and increase the adoption of DERs through $369 billion for climate and clean energy provisions.
DERs provide a real opportunity for utilities to manage their cost spikes due to rising natural gas prices and climate change wreaking havoc on an outdated grid. When the grid is strained, DERs like solar + storage are a solution to use clean, reliable and resilient power.
According to the Solar Energy Industries Association, the price of a residential solar system has dropped by an annual average of more than 60% over the past decade. Battery costs have also been falling quickly — down by 97% in the last three decades.*
With technology advancing rapidly, decentralized power is not only becoming the cheaper option, but also the more reliable option compared to the power provided by outdated utilities that are resisting change.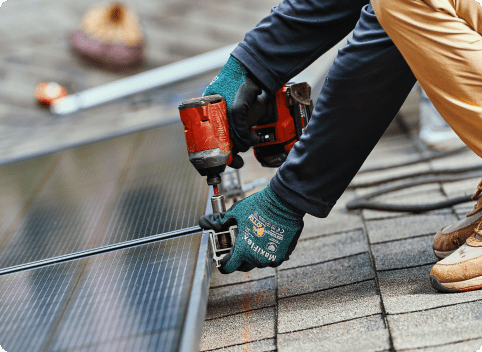 The Relationship Between Inflation and Climate Change
Climate change is one major force driving inflation higher. Extreme weather events have sent global costs surging, from commodities like sugar and wheat, to home insurance and building materials. In addition, the cost of hardening the grid against natural disasters is passed along to electricity customers, while transportation costs increase to help cover washed-out roads and weather-related infrastructure damage.
It's not the occasional tropical storm or brush fire that wreaks havoc, but the frequency and severity of these events. Climate change fuels inflation by increasing demand when sea level rise threatens coastal communities and widespread drought limits habitable areas — more people are left competing for housing and livable space.
Our changing weather patterns also increase the demand for electricity, as summers grow warmer and winter storms prevail.
But for now, let's focus on what we can change: our behavior.
The Transition to Renewables Needs to Pick up the Pace
Because climate change influences prices across so many sectors, we need to accelerate the transition to clean energy and especially, to DERs like solar and battery storage. The sooner we reduce our dependence on fossil fuels, the faster we can stabilize our economy and work to prevent another energy crisis. By transitioning to electric vehicles, we'll need less crude oil. By implementing more renewables and focusing on energy efficiency, we can reduce our demand for natural gas and reduce our carbon footprint — a double win.
One major perk of renewable energy is that prices are relatively stable. After solar facilities are built, all they need is sun, compared to natural gas and coal-fired power plants that require a constant fuel supply. That supply, as we are seeing, is easily susceptible to disruptions and price increases.
What's more, the cost of solar energy has dropped more than 80 percent since 2010.* For homeowners across the U.S., investing in distributed resources like home solar helps create a buffer against the market forces that impact fossil fuel prices.
Not only can DERs help us decarbonize our planet more quickly, but local, renewable energy sources can help boost our community resilience in the in the face of extreme weather. By installing solar plus battery storage at home, we can work together to reduce the strain on our overworked grid. But we need to pick up the pace. The speed at which we transition to clean energy holds the key to overcoming challenges of energy security, economic recovery, and affordability of electric bills in the years to come.
For those who lived through the oil crisis in the 70s and the Gulf War in the 90s, we know this isn't the first energy crisis, and it won't be our last… unless we work to make it the last.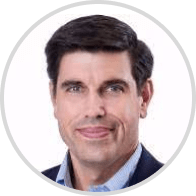 Sunnova CEO John Berger
"The single best thing that a consumer can do in this economy is to sign up for solar service, from a company like Sunnova. You can lock in energy prices for the next 25 years. We all know and have seen utility rates skyrocketing. They're going to keep going up as we move forward over the course of this year — and even after that, in our opinion."