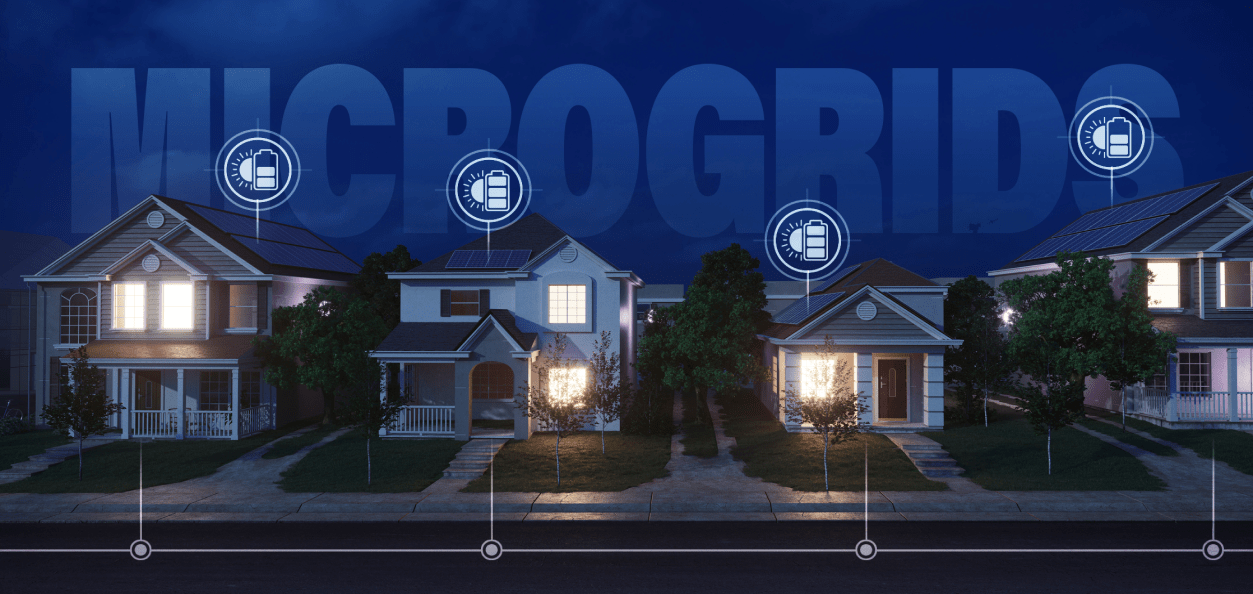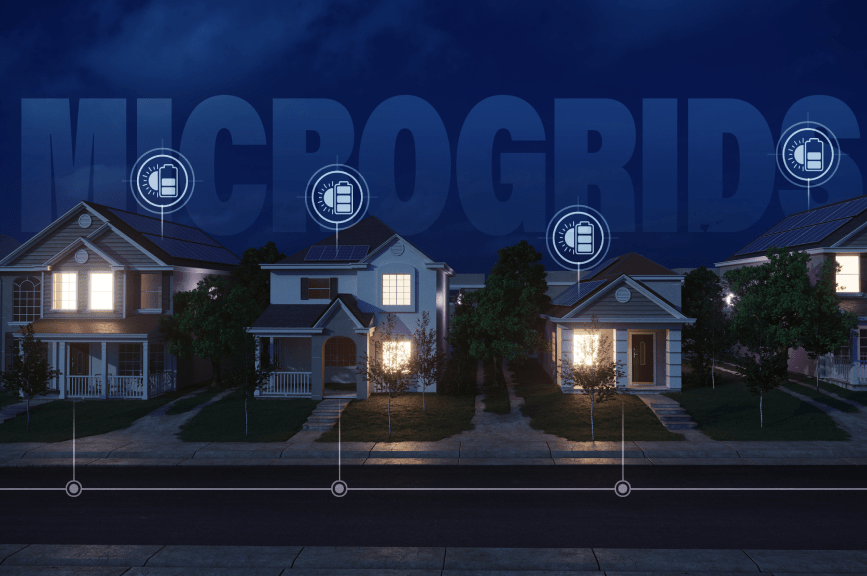 Modern new home communities feature innovative design, luxury standards and rooftop solar panels. And now: the ability to detach from the electric grid and share power between homes and shared spaces for days at a time.
The concept is a community microgrid, where a group of loads and distributed energy resources like solar panels and battery storage can work together as one. By combining clean energy with smart technology, entire neighborhoods can generate and store on-site solar energy, know exactly when and where to disperse it, and create cleaner air and less grid congestion for everyone.
As straightforward as it sounds, sharing power across property lines is anything but. Legacy legislation and regulation put in place before modern microgrids existed ― as well as utilities and others vested in the status quo ― challenge what might otherwise be the best alternatives.
For example, the California Public Utility Code Section 218, commonly referred to as the "over-the-fence rule," requires any entity who wishes to sell energy to more than two contiguous parcels or across the street to become a regulated, electrical corporation. In 2022, Sunnova formed an entity called Sunnova Community Microgrids of California and sought to be regulated to build neighborhood microgrids that allow homeowners to share their energy resources with neighbors across a community distribution infrastructure.
At Sunnova, we want people to be able to access new technology and get a better energy service at a better price ― that includes first-time homebuyers. As the demand for power continues escalating while the aging grid becomes frailer, we're committed to improving energy security, which means reducing dependency on the centralized grid.
And new home communities are the ideal place to start.
Why Turn a New Home Development into a Microgrid Community?
Each new home development starts with a blank canvas. With abundant possibilities, developers have the freedom to design sophisticated energy-efficient homes that buyers want.
By creating the community microgrid distribution infrastructure with the initial construction, builders can eliminate the need and cost to decommission hardware to retrofit homes with solar and storage. Instead of having to replace a legacy meter design for individual home use, Sunnova can design the distribution infrastructure and add the incremental transformer capacity as well as microgrid controls necessary for the community to island.
In addition, builders can include upgraded main panels to support future EV charging and incorporate technology like wireless meters to save buyers on monthly meter charges. While substituting smart technology for standard features might increase expenses significantly for a single home, constructing entire communities at once enables builders to reduce overall expenses through economies of scale.
For new developments in remote areas, community microgrids can be crucial for meeting the energy needs of neighborhoods the centralized grid struggles or will struggle to serve. Reducing the overall power demand in these isolated areas can even prevent a utility from having to build a new substation, which may provide builders with additional savings on construction.
How Sunnova's Community Microgrids Can Meet Homebuyer Expectations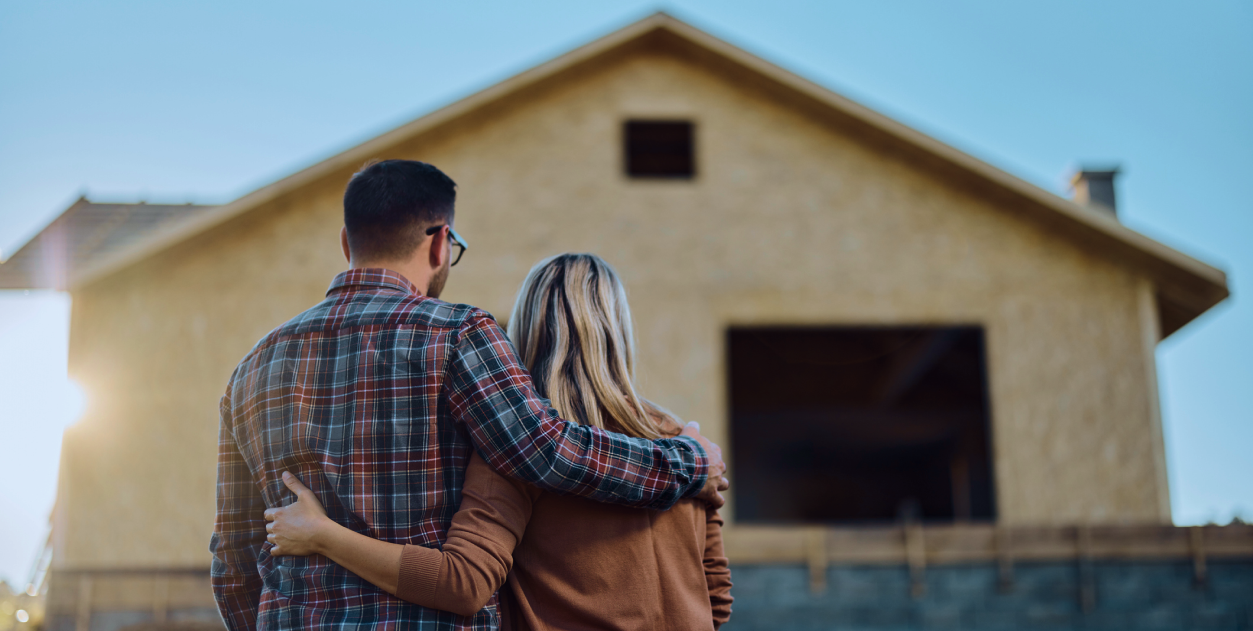 Each new home development starts with a blank canvas. With abundant possibilities, developers have the freedom to design sophisticated energy-efficient homes that buyers want.
Extreme weather events are disrupting electric grids across the nation, leaving hundreds of thousands of homeowners without power. If you ask homebuyers what they're looking for, many are opting for resilient design ― renewable technologies, stronger windows, additional insulation ― to survive extreme temperatures, save energy and improve their home's durability if disaster strikes.*
In fact, the National Association of REALTORS®(NAR), learned from its member base that buyers are particularly interested in energy-saving features, while concerns about our changing climate have worsened for real estate professionals.*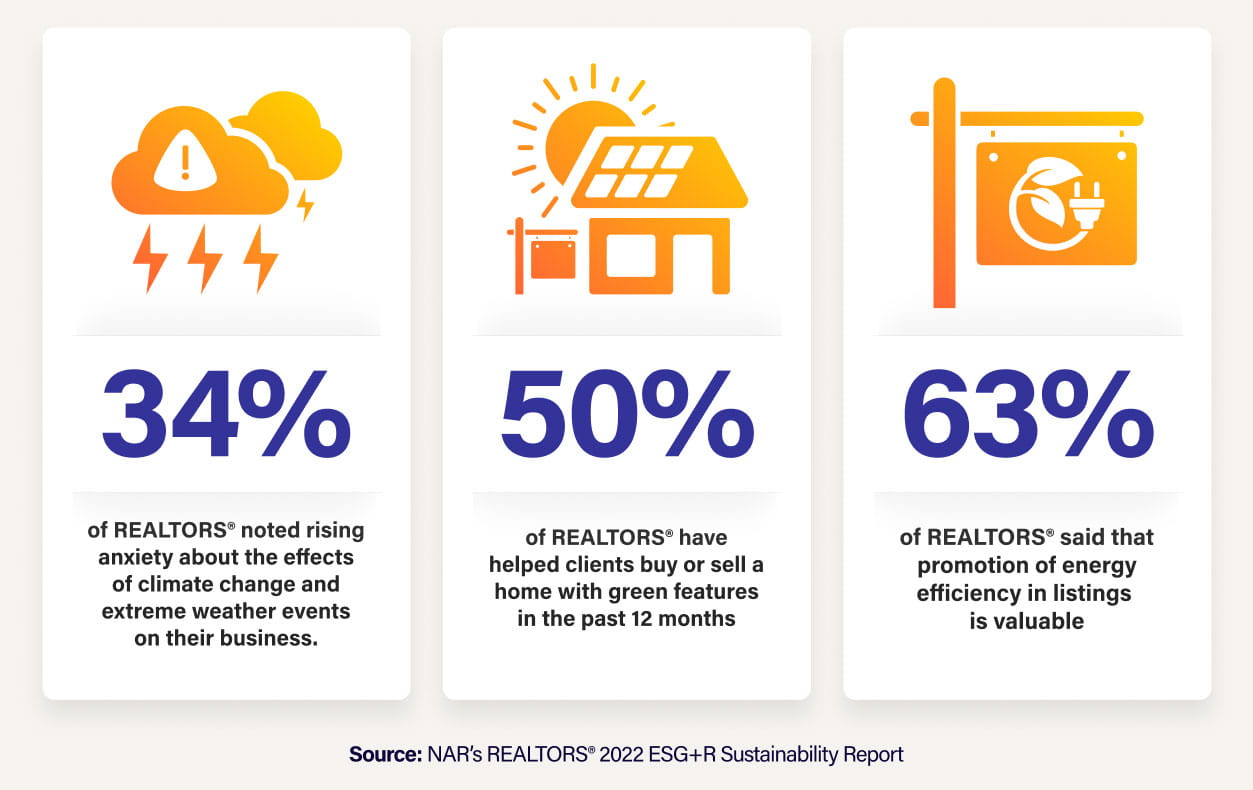 At Sunnova, we're committed to providing energy reliability and increased resiliency at the community level. With the homebuilder, homebuyer and greater community in mind, we've developed the Sunnova Adaptive Community™. Because they can operate while the grid is down, our microgrid communities can mitigate power interruptions by detecting storms and fluctuations in energy supplies. Then, through intelligent energy management, our microgrids can manage different energy loads and optimize real-time performance while functioning as a grid resource to provide faster system recovery.
Even though the Sunnova Adaptive Community™ has the capability to disconnect from the grid or "island," we want to work with the local utility provider to coordinate control of the point of connection (also called common coupling). Remaining connected to the local utility is important so the homes can send excess solar production to the grid and help alleviate energy impacts for all local ratepayers, which can not only benefit the community but also delivers environmental, reliability, and resiliency benefits to neighboring communities.
In areas subject to time-based rate structures, residents in microgrid communities can use utility electricity during the economic time of day and use their own stored energy when the grid is congested and rates are highest (often between 4-9 pm). This helps minimize monthly electric bills and relieve strain on the grid.
Oversizing systems can also provide value and drive costs down for homebuyers. For example, if one home has a larger rooftop system than its household energy demand and the home next door oversizes its battery capacity, these neighbors can share power among the community without having to use the distribution system outside of the community. Connecting homes in close proximity to each other also reduces transmission line loss, and reduces the amount of equipment needed to meet the same volume of energy demand.
Simulating a New Home Community Microgrid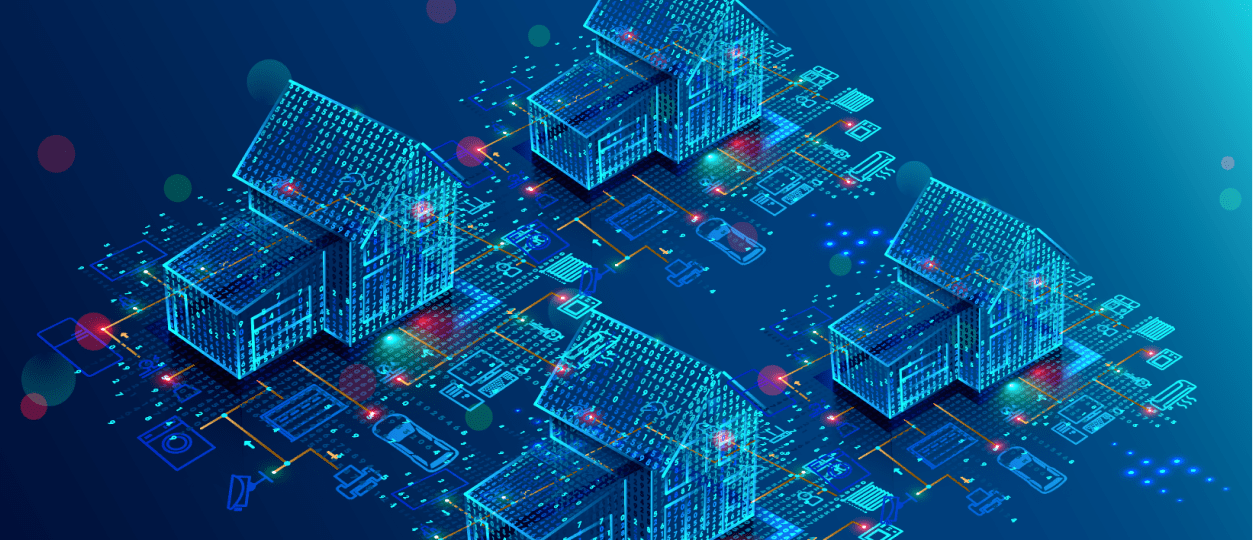 As Sunnova gauges the need for community microgrids, we look at areas subject to grid instability, high electricity prices and states with strong renewable portfolio standards (RPS) that we can help accelerate. California is the ideal candidate, but we're looking into other states that have the characteristics that we think make them good candidates for microgrid development, too.
One model Sunnova has been pursuing is a micro-utility, where we would construct and operate public utility microgrids and establish rates for service. California is the only state where these off-grid neighborhoods of less than 2,000 homes are allowed under public utility codes.
In September of 2022, we filed an application with the California Public Utilities Commission (CPUC) to build community microgrids as a regulated company. In the application, we simulated a new 500-home community outside San Jose, Cali. that featured:
7 kW of rooftop solar on each home
Two solar batteries for each home, providing 10 kWh of backup power a piece
A 300 kW ground-mount community solar array and a central BESS with 2,000 kWh of capacity
2 MW of centralized backup generation (via fuel cell or generator)
In the simulation, about 82% of the energy would be generated within the community and 18% would come from the local utility company (this could be easily changed based on additional generation or technology). The simulated community can provide up to 300 hours of continuous run-time during major events.
We focused the simulation on a new home community because it made the most economic sense ― there's no need to rewire homes to install solar and builders can reduce the cost of equipment by scaling production, in addition to achieving superior aesthetic outcomes. Through our simulation, we worked with an outside engineer, Black & Veatch, to validate that Sunnova's micro-utility model provides the same standard of power that a utility provides, at a better value for homebuyers, and more sustainably.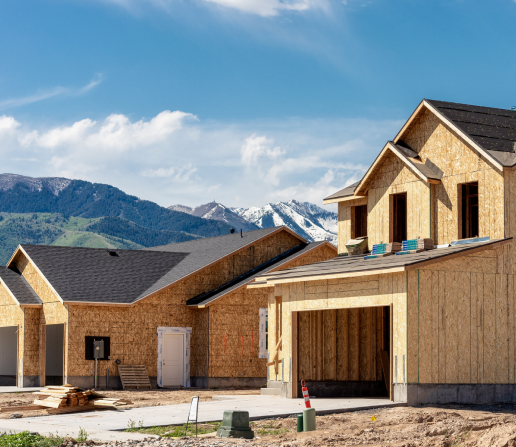 In April of 2023, the CPUC dismissed Sunnova's micro-utility application. As we see it, new technologies that provide ratepayers with greater freedom, greater choice and greater economic flexibility in terms of their own energy are especially threatening to the century-old monopolistic utility model.
We may have lost this battle, but the war is far from over.
Right now, utilities are accepting microgrids that occur across a single property owner, such as a critical care facility, an army base or a college campus.
At Sunnova, we know communities can be much more resilient, and much more sustainable if we had informed laws that remove regulatory obstacles to building these communities the right way.
Microgrid communities offer greater choice and reliability, and a true advancement toward clean energy mandates and environmental targets. The way we see it, neighborhoods that can go off-grid and offer a sustainable means for producing and distributing energy are the future of new home construction.
Investing in distributed energy and smart technology helps ensure communities are livable, functional and resilient for decades to come.
Ready to learn how you can benefit from community microgrids?